Summer Camp
Posted 2 weeks ago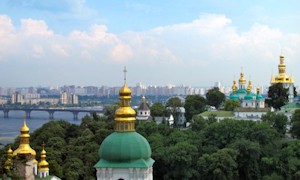 Camp Counselors for an English Summer Camp in Ukraine
We are a provider of English Language Camps in Ukraine
Summer Camp Fun in the mountains of Ukraine!!!
***
Working at camp is an experience of a lifetime.  The personal growth, the rewards of working with children, the excitement of an active, diverse community and the close friendships that you form will stay with you long after the summer ends.
Our counselors are the heart and soul of the camp. This role offers a great deal of variety, because you will find yourself planning & running lots of different fun projects, activities, ranging from arts & crafts, sports, outdoor adventure, up to evening entertainment and excursions.
If you're full of energy then this is the role for you: combining instructing and group leading, as a counselor you'll lead activity sessions, organise fun events and ensure your group has the best stay possible!
Counselors are the primary caregivers for each camper.  The Counselor is responsible for planning, teaching, coordinating, and carrying out projects & activities and guiding campers in their personal growth and daily living skills.
Hours/Days: 48 hr contract over a 6-day working week
– 15h of Activity Time
– 15h of Project work with Students (3h/day, 5 days/week)
– 15 weekly hours of planning duties
– 1 full day-off per week
– placement of students into units
– activity/project preparation time
– time for writing final camper reports and certificates for campers in your unit
The camp will be running on a program of 3h of English classes for each student, and a 3h project work with the campers (curated by teachers, counselors, instructors and other invited professionals). The projects centre around revitalising the camp-site base (a ski-resort in winter) through creative interventions and sustainable practices. A multitude of small projects (where we develop specific skills in kids), using the latest technology (3D printers, drones and all the best the internet has to offer in terms of apps and collaborative websites), working with artists (we run an Artist's Residence in parallel during camp-time), dream big, act locally.
Some examples of the projects we envision:
– redesigning the the bus-stop from the highway to the entrance to the resort: from the old-forgotten Soviet relics into modern, artsy ones with mosaics, graffiti and painted murals.
– A new hike-trail in the mountains, with signage and a free-of-charge map to be given to tourists.
– New touristic 'souvernirs' (key-chains, toys and other trinkets) – printed at our 3D printer and decorated with 3D pens; or sculpted from wood in our Arts workshop; or mini-ceramics ones;
– A new website and video add for the resort (involving drone-filming);
– Get the local community to put their available accommodation on AirBnB. The kids do the photographs, descriptions, create a business-plan with part of the profits going to an ongoing artsy redevelopment program of the resort.
– Create alternative renewable sources of energy, using wind, water and solar power sources.
– Do a Social-Photography project with the old babushkas (grand-mothers) selling berries, jars of marmalade and other local-delicacies. Create an online-sales website, agree with local Post to deliver the items nationally.
Your main duties will include:
•  curator-ship of project work with campers in one of the following areas: Art & Design, Food & Gastronomy, Eco-Tourism & Environment, Media & Communication, Technology & Engineering.
• designing, managing and leading one daily elective activity session (like sports, arts, fashion, leadership, etc.) and one night event.
•  pro-actively encouraging the children to take part in planned activities both during the day and in the evenings.
•  assisting in general with the smooth running of the centre, ensuring the children enjoy their stay.
•  supervising campers during break times and free time
•  monitor compliance with the order of the day
•  solving the problems that children may encounter and managing their behaviour
•  being part of the team and a real Leader of your group
***
There will be a total of 5 sessions and a 5-day staff orientation prior to the start of the summer season. Applicants will be considered for at least 2 out of 5 available sessions.
Camp dates:
There will be a total of 5 sessions and a 5-day staff orientation prior to the start of the summer seasos. Applicants will be considered for at least 2 out of 5 available sessions.
The dates are as following:
Staff Training: June 6th – June 10th
1 session : June 11 – June 23
2 session: June 23 – July 7
3 session: July 9 – July 21
4 session: July 23 – August 4
5 session: August 6 – August 18
Position Requirements
• High-Level English speaker
• Ideally, must have completed their freshman year of college before the camp season begins.
•  Ideally currently working towards a Degree in a field like Psychology, Recreation Studies, Leisure Management, Theater or Performing Arts, Creative Arts, Sports & Health Studies, or related field.
•  Ideally, previous experience of teaching children/ young people in a similar or related environment
•  Ability to work well in a fast-paced and sometimes pressured environment
•  Ability to work as part of a team, sharing resources, ideas and lending support to colleagues as required.
•  Ability and confidence to lead from the front and by example – you will be required to lead excursions off site, as well as participate in activities on and off site, such as discos, quiz nights and talent shows.
•  Ability to use own initiative and work as part of a team.
•  Strong desire to work with children in an outdoor setting
•  Motivation to learn and practice new skills
• Desirable: First Aid Certificate and/or Life Guard Certificate
Salary package for the camp duration: GBP £2000-
– Employment for the duration of the camp course (June 11 – August 18), calculated as a rate GBP £400/session)
– A 5 day period for camp set-up and staff induction prior to the begin of the camp season (June 6—June 11)
– A travel allowance to assist with costs to Ukraine
In addition to salary, we shall provide:
– Coverage of travel costs up to GBP £230;
– Free airport pick-up upon arrival to Kiev;
– Free hostel accommodation in Kiev in case of early arrival (June 3,4);
– Train+bus transfer from Kiev to camp location and back to Kiev;
– Free shared accommodation and meals on site.
What you need to know:
| | |
| --- | --- |
| Location: | Myhove, Chernivets'ka oblast, Ukraine |
| Contract Length: | Under 3 months |
| Job Type: | Summer Camp |
| Pay: | £2000 |
| Accommodation Included: | Yes |
| Start Date: | 6th Jun 2017 |
| Application Expiry Date: | 30th Apr 2017 |
| Degree Required? | No |
| TEFL Hours Required | 20 |
| Job Reference | UKRAINE104 |
| Number of Vacancies | 3 |
---
How to apply
Please login to view application details
---