A new beginning
Fed up of the daily grind and dreaming of sunnier climes? Teaching English as a Foreign Language is an excellent option for career changers; it gives you the opportunity to get paid to travel and do something truly rewarding. TEFL is also a popular option for gap year travellers, qualified primary or secondary teachers, recent graduates and retirees. Don't panic if you've never taught in your life; our TEFL courses are designed to equip you with all the essential skills needed to successfully teach your own TEFL classes.
Courses in Guildford
Internationally recognised TEFL courses
We are proud to say we are the most highly accredited TEFL course provider in the UK, meaning your TEFL certificate will be recognised internationally. People have different learning styles and requirements so we offer a wide range of TEFL courses to suit the needs of our students. Ranging from a 20 hour classroom TEFL training course in Guildford all the way to a 140 hour combined classroom and online Premier TEFL course, there really is something for everyone. When selecting a course, it's worth bearing in mind that most employers in the TEFL industry look for candidates to have completed at least 120 hours of TEFL training.
The price of our courses includes everything you need, so there won't be any sneaky hidden charges! No matter which course you choose, you will receive all your course materials, over 80 pre-prepared lesson plans and activities, your TEFL certificate and lifetime access to our TEFL Job Centre.
Once you complete your TEFL training, you will be issued with an internationally recognised TEFL certificate within 10 days. This can be used to apply for jobs on our TEFL Job Centre which advertises TEFL teaching positions all over the world.
Upcoming TEFL courses in Guildford
Location
Dates
Days
Availability
Course Options
Guildford Harbour Hotel
Start: 19th Aug 2017
End: 20th Aug 2017
2 Days (weekend course)

SOLD OUT

Sold Out
Mandolay Hotel
Start: 28th Oct 2017
End: 29th Oct 2017
2 Days (weekend course)
18 places remaining
View Options
Mandolay Hotel
Start: 13th Jan 2018
End: 14th Jan 2018
2 Days (weekend course)
20 places remaining
View Options
Course Locations
Location 1:
Guildford Harbour Hotel, 3 alexandra Terrace, Guildford, GU1 3DA
Location 2:
Mandolay Hotel, 36-40, Guildford, GU1 2AE
Classroom TEFL course Guildford
Our TEFL courses in Guildford are held over selected weekends throughout the year. The intensive classroom training course is held over 20 hours where you will learn the most up-to-date TEFL teaching methods from one of our highly qualified and experienced TEFL tutors. Here at TEFL Org UK, we believe in a hands-on practical approach to learning throughout our classroom courses, so you will be mainly working with your peers to complete tasks and activities. You will experience creating, planning and implementing your very own TEFL lesson which will be invaluable experience for your future TEFL career.
Although our classroom training courses are suitable for complete beginners, qualified primary and secondary teachers who are looking to diversify into TEFL teaching are also very welcome to attend.
What's included

FREE hardcopy coursebook

A reference letter from your course tutor

FREE internationally recognised TEFL certificate

CV support

Lifetime access to our TEFL job centre
Tutor Profiles
Our TEFL course tutors are all highly qualified and experienced TEFL industry professionals. Our TEFL courses in Guildford are normally held by Alex.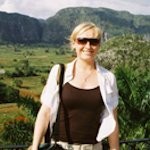 TEFL Tutor Alex
Alex is a highly qualified and experienced TEFL tutor with years of teaching experience. She has travelled to countries such as India, Cuba, Zimbabwe, South Africa, Namibia, Botswana, Kenya, Tanzania, Morocco, Egypt, and most of Europe.
TEFL Courses in Guildford, England
2015-11-17T13:51:52+00:00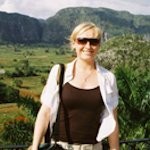 Alex is a highly qualified and experienced TEFL tutor with years of teaching experience. She has travelled to countries such as India, Cuba, Zimbabwe, South Africa, Namibia, Botswana, Kenya, Tanzania, Morocco, Egypt, and most of Europe.
https://www.tefl.org.uk/blog/testimonials/tefl-tutor-alex/
Course Reviews
FAQ
Please click on the question to view its answer.
Q1. What is the classroom schedule for the 2-day weekend course in Guildford?
Q2. How many people will there be in the Guildford TEFL classroom course?
Q3. Do I need to be a native English speaker to do the course?
Q4. For the combined courses, do I need to complete the online course before attending the classroom course?
Our approach
It's hands on! We believe that it's so much more effective to be involved in practical activities rather than just listening to somebody lecturing at you. This is why during your TEFL course in Guildford, you will be kept on your toes with activities and games to help you retain the information you learn.
The weekend course gives you the chance to create your very own TEFL lesson and deliver it to your peers. You will also be able to observe the rest of your class delivering lessons and have the opportunity to offer feedback to help them improve.
Our classroom courses are attended by a wide range of people, including school leavers, recent graduates, university students, career changers and retirees!