As the 5th of September marks International Day of Charity – we thought we would provide an update on our fundraising efforts for TEFL Org UK's charity of the year – ActionAid UK!
What work does ActionAid UK do?
ActionAid is an international charity that works with women and girls living in poverty. The dedicated staff at ActionAid are helping to end violence against women and girls – not stopping until they are out of danger, out of poverty and on track to create the future they want.
ActionAid's staff recognise the challenges and injustices that women and girls in poverty face, day in, day out. With a lack of education and opportunity for women and girls in developing communities', this results in a huge inequality between the genders – through humanitarian work and campaigning, ActionAid is working hard to bridge this gap.
Through running a number of local initiatives in poverty-stricken communities, such as women co-operatives, mother and baby centres, cash for work schemes and community seed banks – ActionAid is fighting to regain control and self-reliance for women and girls in poor communities.
We feel that ActionAid UK carries out incredibly important work in developing nations – their drive to give women and girls access to life opportunities through education, fair working conditions and equal rights is significant in making progress in the fight for gender equality.
Baxter's 10k Run
Currently, 5 members of staff at TEFL Org UK (Erin K, Erin M, Connor, Alan, and Zoe) are training for the Baxter's 10k, Loch Ness Marathon on the 23rd of September – raising funds for Action Aid UK! TEFL Org UK will be running under the name 'Easier Said Than Run'.
Team Easier Said Than Run want to say a big thank you to everyone who has already sponsored us! If you wish to donate and support our team, online donations can be made via the following link: https://www.justgiving.com/teams/teflorg
If you want to come and cheer team TEFL on – the run starts at 10:45 am on Culduthel Avenue, Inverness (near the junction with Culduthel Road B681).
10th Birthday Charity Quiz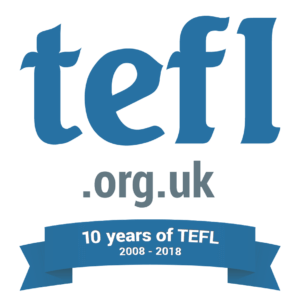 On the 4th of October, TEFL Org UK will celebrate its 10th birthday! To put our birthday celebrations to good use – we will be hosting a quiz night, with all proceeds of the night going to Action Aid UK at the Mercure Hotel. Tickets (£15 per person, maximum of 5 people per team) can be purchased via the following link https://www.tefl.org.uk/tefl-org-uk-10th-birthday-quiz/
There will be a half-time raffle, with prizes kindly donated by local businesses. Prizes include:
Tension Massage donated by Fantasia Beauty Boutique
£40 Voucher for the Lochardil Hotel
2 Course Prosecco Lunch for Two at the White House Cocktail Bar and Bistro
Hamper donated by Morrisons
3x Gel Nails Vouchers at Little Blank Spaces
1x car treatment at 2k customs
Elemis Taster Facial at Sleeping Beauty
Anna Foster, Community Engagement Officer at Action Aid UK said, "It's fantastic to have the support of TEFL Org UK, who have been working hard over the past eight months fundraising for ActionAid. We're really excited about their next fundraiser- a quiz on 4th October. The money raised will help to transform the lives of women and girls living in poverty and we hope it's a huge success!"
Online Donations
TEFL Org UK customers can donate to Action Aid UK when they purchase courses with us, there is the opportunity to donate £1, £5 or £10 at the checkout.
Current Total
The current total of money raised for ActionAid UK by TEFL Org UK is £1981.38 .